After a long hiatus I am proud to bring back HWM's Member of the Month interview. It's been a long time since we've had one and times have changed, but with the resurgence of membership from both old and new alike, it's time we take a moment to appreciate some members who show some outstanding contributions to our community. Due to the fact that we have so many members currently, these interviews will be two at a time it hopes of spotlighting different things that our members are doing around here. This might change in the future but it's what we're running with now, so get used to
TWICE
the amount of members,
TWICE
the amount of interviews, and
THE SAME
amount of months. Ladies and gentlemen, I present to you your May 2016 Members of the Month:
Sarge
and
Witney.
How and when did you find the site?
Sarge:
I found the site in March 2009 from the average joe's interview with LouieBlack on Bungie.net. I had been driving one of my roommates around in Halo at that time and thought I was pretty cool for having a hundred or two wheelmans at the time. The site was pretty chaotic around that time, with about 400-600 new people posting and clamoring for attention. Things eventually settled down, and I ended up meeting a few people, particularly hel monkey, during New Member Friday.
Witney:
I found the site thru Waypoint. The exact date was Feb 1st, 2016.
What got you into Halo?
Sarge:
I had played Halo 2 at a friend's house back in 2005/2006, but never really got into it much. Started playing some FFA customs and some MM with my suitemates at UVA and found I enjoyed it. Ended up creating my own gold account around Thanksgiving in 2008.
Witney:
I've always been a fan of Halo, since the first one. Got a lot more into Halo with Halo 2, since it was online thru XBL. Actually found some people from my state, and we started playing together online, and sometime meeting up at each other's place to LAN or play some classic Halo. But the main reason why I got back into H5 is because of my Girlfriend. A lot of you know my GF is in the Navy, so she's deployed quite a few times. Before her last deployment was actually X-mas, she knows that I love to play video games, so she got me an Xbox one and H5. She said that this should keep me company while she's out at sea.
What's your preferred playstyle?
Sarge:
Deliberate. I analyze a lot of gameplay and rarely find myself surprised in Halo. I execute plans when I play, and prefer to feel like I'm in control of my own gameplay.
Witney:
I hated driving the warthog, my favorite thing to do is drive around in a ghost and splattering people. But nothing is more gratifying then sniping people. So sniping people would be my 2nd choice.
Where did your gamertag come from?
Sarge:
I was a fan of Red vs. Blue when I started getting into Halo. My original gamertag was Sarge RvB ftw. Even though I've lost interest in RvB, the name has stuck and fits my role.
Witney:
My original gamertag was actually 'll Phoking ll', and the gamertag of 'Who is that' belonged to my late friend Ryan that I met while playing Halo 2. We would hangout on XBL and meet up in real life since we were only 30 mins away. After I stopped playing Halo 2 for a few years, him and I grew apart. And then one day I got a call from his brother telling me he got into a car accident and passed away. Eventually I asked his brother for the account to play on to carry on his memory.
Any favorite Halo memories?
Sarge:
I have a lot of fond memories of New Member Fridays back in the Halo 3 era.
In particular, Duce and Apathy made this map called Sahara. We played a game with unlimited time, touch return flag, flag at home to score, and single cap to win. It was a huge map set on two levels of Sandbox. One time Duce stacked his LAN Flag team to win, and we ended up losing in under two minutes to all the new people and Twisted. Duce raged SO hard. We replayed and won an extended game. He's still salty about that game.
During Halo 3, RJ and I were getting close to earning our BTB 5-star ranks (2000 EXP in the playlist). RJ joked that if I beat him to BTB 5-star, since I started playing Halo a year later than everyone, he would cry. I accepted his challenge and grinded BTB pretty hard, and managed to beat him by three games. He was called upon to deliver on his tears, and took Duce's advice to cut some onions to induce the tears. The video was pretty fantastic and I got this signature out of it: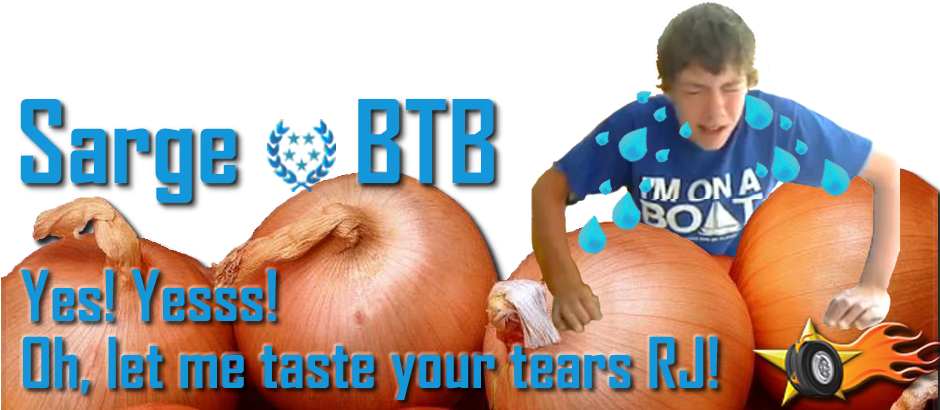 RJ, Tims (then, Azn), and I called ourselves the U-Haul trifecta throughout Halo 3 and Reach because we covered three major map responsibilities when we were together, and had an ongoing joke about how we were each the other's most played with teammate for a long time throughout Halo.
In Reach, I'd say I really enjoyed all the work we put into mastering Invasion, and the team-up with the Halo Forge Epidemic to release new content into Matchmaking is definitely the highlight of Reach, along with all the matches we one against teams.
Trailer:
I've been here a long time, and I've met a great deal of the clan and some community members in person. I've taken up a lot of space here, but needless to say I've had a good time here.
Witney:
During the time I played H2, I would always enjoy exploiting glitches in the game. My friends and I would do superjumps, and sword/rocket jumps to get on top of the map in customs and explore. We would do this for hours, just running around outside the map. Another would be playing zombies with a full party on Foundation, love moving the boxes and crates to one of the room and make a barricade. And watch hordes of Green Spartan charge us while we had only pistols.
What are your other favorite gaming series?
Sarge:
I'm very fond of the Mass Effect and Dragon Age series by BioWare. I enjoy the investment BioWare gives me when I play in their worlds.
I also very much enjoyed Life is Strange for using it's primary gaming mechanic as a core aspect of its storytelling. In this game you can rewind time in small bits, and the game explores that as one of its primary themes.
Brothers: A Tale of Two Sons also qualifies as a game that uses its mechanics in its storytelling. It's a beautiful game and everyone should play it.
Witney:
After Halo, I started playing MMORPG. And the game that I was addicted to next was World of Warcraft. The teamwork & coordination on that game was really fun and extraordinary. Would spend 3-4 hours doing raids with 25 people. imagine
What is your favorite food?
Sarge:
I'm a New Orleanian, and as such I am quite fond of Creole food, particularly seafood-based stuff. Few things are tastier than a well-made crawfish etoufee.
Sushi is also pretty fantastic.
Witney:
My favorite dish would be Vietnamese Crepes/pancake. It's a yellow pancake that is pan-fried on a pan, it has beansprouts, pork, mushrooms, shrimps, bacon folded on the inside. You eat it with a Fish sauce mixture of sugar and lime. Served with Various veggies and salads as garnishes. It's called Banh Xeo.
Tell us something about yourself that we might not know!
Sarge
I'm pretty open about most things, so I'm not sure what I could say here.
I have French and Caribbean roots, and I have about 80 family members who all live within 15 miles of each other?
Witney:
One of my pinky is abnormally shorter the the other pinky, it's like one day when I was in my Teen, it decided to just stop growing.
Any advice for newer members of the community?
Sarge:
Be kind, contribute, and always keep improving. In Halo, any community, or life, treating others well, adding to the group, and always finding ways to better yourself will make you someone loved and appreciated.
Witney:
The best advice I can give a new member is to be proactive, if you want to play with people just Ask Or Ninja join their lobby Lol. That's how I did it when I first joined. I wanted to play, and so I was actively asking people to play with me, and engaging with people in chat, creating events.
Shoutouts! Who do you guys want to shoutout?
Sarge:
So many, ugh.
Halo 3:
Shoutouts to Deaf Smith back in the day for teaching me how to drive without talking to the gunner and getting me introduced to Duce. Duce for running NMF and getting all of us invested in this place. Brick for being a rock and keeping the lights in through the up and down times. Muffin for teaching me basic ground pounder tactics back in the day. Hel Monkey for letting me drive him. Swift, Criporc, and Jazzy from back in the day.
Cosumed, Jedi, and RJ are all retired members I miss.
OG Helljumpers:
There aren't a lot of us still around anymore, but gonna mention Tims, Twisted, and Cheeseball here. We were all scrubs back in the day, but we ended up becoming a solid group of people. We all miss Valkyrion, Mallets, Armchair, Toto, Chicken, Stone, Crazyskate, and all the others.
Invasion Crew and Team Euro:
The HJs and Team Euro essentially merged in Reach. Shoutouts to Black Knight, Alex/Panda/Sazed, Cruckeyee, Yozi, and Lars.
Gonna also shout Druceren, who was always a blast.
Everyone else:
Grass and DuckE for keeping me entertained during the Halo 4 era. Jon and Tom for also being endlessly amusing for me. So many. Everyone here with us in Halo 5. All of you are amazing.
Duce, Brick, and I wanted one last go of keeping a Halo Warthog site active, and you all believed in us. That means more than you know.
Witney:
Big shoutout to Porc, Sarge, BigL, Mime, Jazzy for helping me learn how to play in different squads, and coaching me.
Also want to give a shoutout to my LNC (Oboe, lightningeagle, Havoc, Monster) for playing with me late at night, where we just do random shenanigans.
I can't forget all the other Blues that helped me out, you know who you are
And last I want to shoutout to the toast and taco for keeping me entertain on the forum.
Tims:
That wraps up our May 2016 Members of the month interviews! Thank you to Sarge and Witney for taking the time to share a little bit with us, and thank you guys for reading! The interviews will be continuing so if you're a blue group member and you want an interview from yours truly then make sure you keep contributing to the community!
We'll be back next month for some hot hog on hog action.